Goynuk canyon how to get from Kemer
Here you will learn how to get to the Goynuk canyon from Kemer on your own, and what interesting things you can see there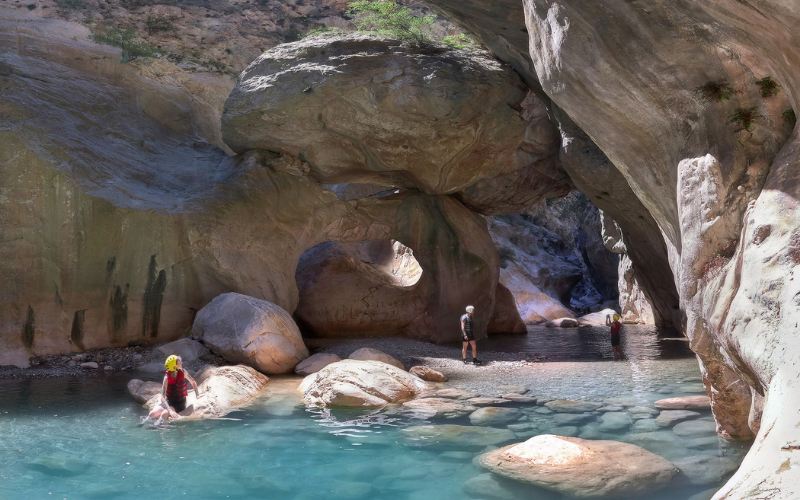 There are three ways to get to Goynuk Canyon from Kemer. The most convenient option is a taxi. The distance from the city center to the Goynuk village, where the canyon is located, is 7 km. The taxi driver will take you directly to the starting point of the hiking route. You can also get there by city minibus - dolmus. As a rule, there is a sign with the name of the settlement on the windshield of the minibus. Before getting on the bus, the driver must be informed about your destination. Dolmush will stop at the road bridge. From here there is the only road to the canyon. It's hard to get lost. In addition, signs are placed along it. It is not far to go to the canyon. But the canyon itself has a length of about 14 km and ends in Beydaglari.
The height of the canyon reaches 350 meters, and the rocky walls at different heights have a wide range of colors from dark green to light red and white. The gorge is rich in small waterfalls that shimmer with all the colors of the rainbow on a sunny day. A river with an azure-blue tint of water flows along the canyon. The place is very picturesque and just created for beautiful photos. You can also get to the Goynuk canyon from Kemer by a rented car. In this case, its coordinates may be useful to you: Latitude - 36 ° 65′97 ″, Longitude - 30 ° 55′02 ″.
There are dozens of interesting locations in the vicinity of Kemer and beyond. See excursions from Kemer and choose your direction.